Each instructor is a gymnastics professional & trained to safely bring out the best in each child by encouraging each child
All Instructors are USA Gymnastics Members and Safety Certified
Michael Vanim has been coaching full-time since 1991. He has coached many gymnasts from Parent-Tot's classes to National Champions. Mike graduated from Ursinus College where he was an assistant coach for the 1990-1992 seasons. Mike has also made 240 skydives, and believes it is something everyone should try.  Let me know if you want to jump.
He has been a clinician at several state and regional camps, clinics and congress
His favorite book is Jonathan Livingston Seagull, Harry Potter comes in a close second. Mike has been a level 8 judge. He is also a retired U. S. Army Drill Sergeant.
Our coaches are USA Gymnastics Safety Certified and have completed and comply with the Safe Sport Policies
Eileen Wilson (Full Time Coach)
Eileen graduated with a BS in Health and Physical Education from West Chester University and has continued her gymnastic education through the USA Gymnastics University. She has taught in both public and private schools, but her true love has been to teach and coach the sport of gymnastics. Her favorite events are bars and beam. She also enjoys training the girls in the mental aspects of the sport. Over the years Eileen has had eight gymnasts qualify to attend the TOP National Camps. She finds training young gymnasts in the developmental areas of strength, flexibility and conditioning to prepare them for future competition very rewarding. Eileen has over 40 years of experience teaching gymnasts from 18 months to 18 years old and from the Beginner to Optional levels. She has established and directed gymnastic programs and trained gymnastic teachers.
Eileen has been involved in Community Bible Study for over 25 years. She and her husband, Bob like to hike, bike and go to the beach and spend time with their children and grandchildren.
Wayne Lange (Full Time Coach)
Wayne has been coaching at Berks East since 2021. His coaching ranges from beginners classes, to Ninja Gym, to team practices. He also competed in gymnastics for 14 years, and finished out as a level 9 gymnast.  Although he was raised in Pennsylvania, he was actually born in Oregon. When Wayne is not coaching gymnastics, he is helping others or spending time with his son.
Sam Gable (Full Time Coach)
Jennifer had been coaching since 1996. While her coaching began with softball and field hockey, her love for gymnastics began when her daughter's passion for the sport became a part of their lives. Her daughter was a Berks East Gymnast for 11 years. Jennifer has been coaching gymnastics for Berks East since  2015. As a coach, "seeing the growth in confidence, strength,  and skills in the kids from September to June is one of the best feelings you can have.....If you believe it, you can achieve it".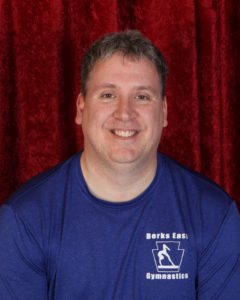 Tom Roache – "Mr. Tom"; "Coach Roache" – Since 1993 - Tumbling Instructor - Coach
Full Time Professional Engineer, Part Time Gymnastics Instructor and Owner of a Game design Company "Red Duke Games".
Tom has been coaching gymnastics for almost 30 years, working with Gymnastics Teams, Acro and Tumbling Programs, Cheerleading Teams and All-Star Cheerleading Programs. Tom currently runs the Sunday Tumbling Clinics at Berks East.  Tom is confident that he can troubleshoot any gymnast so that they can advance their tumbling and gymnastics skills and get through any hurdles that come along.  Tom is USAG certified and Safety Certified.
Tom with his wife and two children live in Limerick and hope to get through sending their two boys through college.
Cynthia has been doing gymnastics since 2012  and is an Xcel Platinum. She mainly helps to coach Xcel Silver and has been coaching for over a year. She is currently in 10th grade at Owen J. Roberts High School. In my free time she enjoys hanging out with her friends and family and going on trips.
Angela Sten is a graduate of Lycoming College with a degree in Education. She is an experienced elementary and preschool teacher. She has been coaching toddler classes since 2022. She is an avid runner and enjoys spending time outdoors with her family.
Aimee is currently a freshmen at Owen J. Roberts high school and has been doing gymnastics at Berks East for 11 years and is currently a level 7.  She teaches beginners and M&M's and has been coaching since March of 2022.  when she isn't training or working she is doing crafts or playing board games with her family.
Ellie has been tumbling throughout her whole life and is currently on our GFA team. She teaches and helps with Beginner, M&M's, and Tumblebear Tots mainly, but is happy to step in anytime to help with other classes. Ellie is a freshman at Spring-Ford on distinguished honor roll. However, when not focusing on gymnastics and school she enjoys spending time with her family and playing with her dogs.
Campbell has been doing gymnastics for the past seven years and is now on our Excel Platinum team. During classes, she is a helper for mostly Tumblebear Tots and M&M's, but is always eager to help wherever she is needed. Campbell is an 8th grader at Owen J. Roberts. When she isn't in school or helping us out at Berks East, she is spending time with her 5 siblings.
Jenna has been coaching gymnastics since 2020, and is currently teaching our KinderGym, Beginner and Intermediate classes along with our GFA teams. She was a gymnast at Berks East Gymnastics for 8 years, competing with our GFA and Acro & Tumbling teams. When Jenna isn't coaching, she also works as a dog groomer and enjoys traveling, line dancing and spending time with her dog.
Cindy began coaching gymnastics in 2000 and has continued to enjoy coaching the sport at many levels and several disciplines (J.O./now the Development Program, Xcel and GfA), up to and including national championships under the Gymnastics for All (GfA) discipline.
She joined the Berks East coaching staff in 2006.  Cindy is the head coach of our Gymnastics for All Program. She has been a part of the USA Gymnastics' National Technical Committee for the GfA program on both Power TeamGym and Acro & Tumbling Committees. She is currently serving as an elected member of the Acrobatics & Tumbling Development Program Committee. Cindy is a certified Power TeamGym and Acrobatics & Tumbling Judge. She is currently training to become a National Collegiate Acrobatics & Tumbling (NCATA) Judge as well.
In our recreational program, she teaches classes from Parent & Tot through Pre-Team levels, manages the summer camp program, and heads the Tumblebus program.
Cindy has enjoyed gymnastics all her life and was able to continue that passion for the sport once her own two children became involved. Both of her daughters have been involved since pre-school through competitive programs. Both girls have continued their love of the sport as coaches at the club and collegiate levels.
Peggy is a retired educator. She worked at Rose Tree Media School District as a Health and Physical Education teacher, at Neumann College as Athletic Director and Vice President for Student Affairs and at West Chester University as Director of Off Campus and Commuter Life.
She has been a coach for basketball, gymnastic, field hockey, lacrosse softball, tennis and volleyball teams. Peggy has also been an official in field hockey and lacrosse and a gymnastic judge.
She enjoys playing bridge, political novels, the Phillies and the Eagles, and enjoyed joining her son on his first sky dive.
Makenna has been coaching at Berks East for three years. She was previously part of the GFA and Acro and Tumbling Teams at Berks East. Makenna is a sophomore and attends Pottsgrove High School, where she is on the varsity cheer team. She has been cheering since the age of 6 and hopes to cheer through the rest of high school. When Makenna is not working, at cheer, or in school she likes to hang out with her friends and travel.
Lori coaches our Beginners, Maxi's, and M&M's classes, she is always eager to help where needed, as well. She was a level 6 gymnast and has 7 years of coaching experience. Her two daughters attend Berks East, between her two daughters and step children Lori has five daughters total. Lori obtained an associate's degree from Lansdale School of Business, is actively working towards a bachelor's degree at Eastern University, and also works as a manager at a call center. Some of her hobbies include watching Hallmark Christmas movies, paddle boarding, hiking, and enjoying as much time as she can outdoors.
Luke coaches our Beginner, Intermediate, Into Tricking, and NinjaZone classes. He has 5 years' experience with tumbling and is currently attending PSU Berks. When Luke is not coaching, he is a full time student and also loves to spend quality time with his son and fiancé.
Valerie has been coaching our Parent & Tots, Tumblebear Tots, Kindergym, and M&M's classes for 3 years. She not only coaches for us, but her daughter Aaliyah has attended Berks East for 11 years now! Valerie has a BA. in Political Science from West Virginia University and also works as a construction project coordinator. In her free time, she is a huge West Virginia Mountaineer fan, Cowboys fan, and enjoys attending any music or sporting events.
Jodie has been a gymnast at Berks East since 2006. She has competed at the artistic compulsory level, and continued her career in both Xcel and Gymnastics for All. As an Xcel gymnast, she earned the title state Gold All-Around Champion 2 years in a row and was part of several Power TeamGym nationally ranked teams. Jodie was a member of our Acrobatics and Tumbling team for 5 seasons as well. Continuing her lover for gymnastics, she began coaching at the age of 14. She teaches recreational classes from Parent & TOT through Advanced levels. Currently she is one of our Xcel coaches and also coaches GfA Power TeamGym.
In her spare time, she enjoys spending time with her family and pets, crocheting, and baking.
Gianna Campisi, Marcede Burton, Ally Disch, Charlie Jackson, Olivia Kanaskie, Nicole Disch, Lauren Quigley, Jaci Severino, Liliah Smith, Ava Smolenski